Ren'Py Games 101-125
See ../Ren'Py Games/ for more games created using Ren'Py.
125. Pro Lesring Ring Out (French Remake)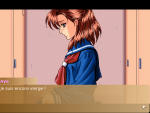 This a remake of the first ZyX game Pro Lesring Ring Out in French.
Freeware
French language
Contains adult content.
Made by: filsduloup
Mirror: n/a
Released: 2008-11-20 using Ren'Py 6.8.0
124. The Case of the Missing Bracelet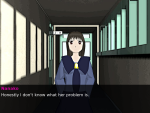 The main character is Ichigo Naro, upon arriving at school one morning Nanako (a friend) comes to him with a problem, she has lost her favorite bracelet and she believes it was stolen. Now it is up to him to find out who stole it, if in fact it was stolen at all. The story is pretty simple and the puzzle or mystery may be easy or difficult depending on your deductive ability.
Freeware
Made by: Marcelo_Orlando
Mirror: n/a
Released: 2008-11-17 using Ren'Py 6.7.1
123. Season of Sakura Brasil (Remake)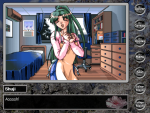 This a remake of the popular classic game Season of the Sakura in Portuguese.
Freeware
Brazilian Portuguese
Contains adult content.
Made by: Papaxibe
Mirror: n/a
Released: 2008-11-07 using Ren'Py 6.7.1
122. Heileen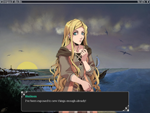 Heileen, cute 18 years old english girl.
She has a quiet life, without any real problems. But one day, her uncle Otto, a famous english merchant, decides that it is time for a change, and forces her to follow him on a journey to the New World.
During the voyage, she'll meet old and new friends and discover lots of secrets, and ultimately find what really wants for herself.
Play with her this fantastic voyage along eight chapters of intriguing dialogues. Each choice you make will have a consequence in your relationship with the other crew members and will determine which one of the three different finals you'll see.
Commercial
Made by: Tycoon Games / Winter Wolves
Web page: http://www.heileen.com
Mirror: n/a
Released: 2008-10-21 using Ren'Py 6.7.1
121. The Answer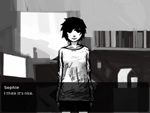 The Answer is a slice-of-life comedy about a writer who decides to take up the task of writing his own visual novel, though he cannot man the entire project alone. Thus begins his search for an artist. The Answer chronicles the writer and his new artist through the steps of creating a visual novel, presented in an informative yet comedic manner, mainly as a response to 'The Question' and forum memetics.
120. Dreams of the Skies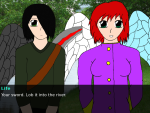 A one-winged angel named Death is on a quest to restore his other wing. According to legend, he can only do this by slaying Life, a descendant of the Archangel.
Freeware
Made by: KomiTsuku
Mirror: n/a
Released: 2008-09-25 using Ren'Py 6.6.2
119. Explicit Proposal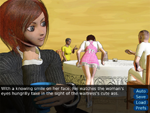 Rei is a lusty manager at a small advertising firm in Tokyo. She is deeply devoted to her job but still finds time to have some fun. She loves sex and isn't above mixing business and pleasure. Rei prides herself on seducing both men and women into her bed.
However, when her firm's largest client ends it's advertising contract, Rei's company faces the possibility of going out of business. The responsibility for saving the company falls to Rei. She must travel to Fiji where the advertising manager for the international corporation, Lambert Industries, is having his vacation. Rei is to do anything she can to convince the man to accept her company's advertising proposal but will Rei's charms be enough to save her beloved company?
Commercial
Contains adult content.
Made by: kuroi
Web page: http://www.kuroigames.com/
Mirror: n/a
Released: 2008-09-19 using Ren'Py 6.6.3
118. Ursa And Parka Cord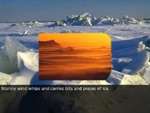 This is a visualization of my short story 'Ursa And Parka Cord', which won first prize on a short story contest and wanted to celebrate by adding pictures and music to the words. Story is the part of my unfinished novel set in a frozen world...
Freeware
Made by: tigerrenko
Mirror: n/a
Released: 2008-08-27 using Ren'Py 6.6.2
117. Bounce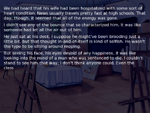 A very short kinetic novel in the style of Adagio, you have an energetic art teacher who never seems to quit being helpful. Then comes his retirement after 40 years of teaching, and he makes a speech during your graduation...
Freeware
Made by: Ashen-tan
Mirror: n/a
Released: 2008-08-13 using Ren'Py 6.6.3
116. Attorney D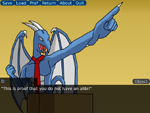 You play the role of a prosecutor in this microgame created to try the style of Phoenix Wright.
Freeware
Made by: F.I.A.'s Sanctuary
Mirror: n/a
Released: 2008-08-08 using Ren'Py 6.6.3
115. Limitless Fire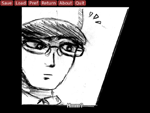 Very hard to explain, this microgame was a means to test a couple of codes while at the same time poking fun at a certain long-haired person within the gamemaking community.
Freeware
Made by: F.I.A.'s Sanctuary
Mirror: n/a
Released: 2008-08-08 using Ren'Py 6.6.3
114. RenAi Blogger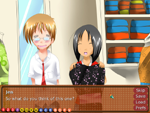 Ever fallen in love with a person in the anime blogosphere? Now you get to date several popular female bloggers in true renai visual novel style, even the creator of the game herself! Warning: character depictions may or may not be accurate to their real-life counterpart.
Freeware
Made by: Hinano
Mirror: n/a
Released: 2008-08-02 using Ren'Py 6.6.3
113. Summer Session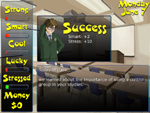 It's summer - and you're still in school! In Summer Session, you must balance your schedule to raise your stats and pass your exams. Your cute classmate, your sexy professor, your secret admirer - can you win their hearts?
Commercial
Made by: Hanako Games / Tycoon Games
Released: 2008-07-17 using Ren'Py 6.6.2
112. Xalynne's Twins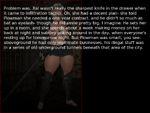 Xalynne's Twins is a short game using the art and characters of poser artist Mark Volk. It was created partially as an "un-birthday present" and tribute. This game is X-rated with a strong pregnancy fetish in a medieval setting, but the story I think falls more on the side of "bawdy" then outright pornographic.
111. Sexual Fantasy Kingdom Vol 3: Black Magic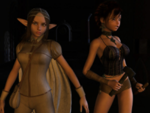 The Kingdom is bewitched by the magic of the night, in 7 unique animated scenes of villains and night creatures, with 20+ characters and 200+ CG images. New in Volume 3 of this bestselling series:
All new voice recordings with Japanese voice actresses, major improvements in art quality, lighting, special effects, and programming, bigger scenes, with more animations, more visual story.
Commercial
Contains adult content.
Made by: GalaxyPink
Web page: http://www.galaxypink.com
Mirror: n/a
Released: 2008-06-27 using Ren'Py 6.6.2
110. Wings II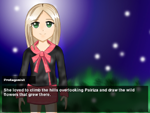 This is a short-story narrated by an unnamed protagonist, a mysterious journalist with an ambiguous age who wanders about a fictional town called Pairizia in search of information about a girl who died four years ago named Eri. The story uses other mini-stories written by the unnamed hero which subtly reveal tiny details about the true identity of the main character and Eri. Since the hero is a journalist, this story also uses interviews from the point of view of people who had known Eri in Pairizia to reveal more about her personality in contrast to the protagonist's vision in the mini-stories.
109. Windy Capital Episode 1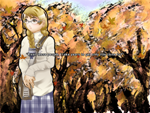 Windy Capital features a Bystine war relief namely Merlandi Hertova, brought home as an adopted child by Christopher Bayliss, the Wistarian foot soldier that saved her, whom then raised her all the way until she graduates from high school.
As a student, Hertova is pure golden. However, as talented as she may be, there's always this lonely, confused traits decorating her face. It was later until the graduation day that her homeroom teacher found out of her long cherished wondering.
Of circumstances, it is then that the capital hosts the docudrama 'Windy Capital', in hoping to gain better understanding in human nature. The guys behind the show are aiming for an outsider who have many wonders for the capital, and apparently Hertova is just the right person to host this show. Hence her recruitment as the host of the docudrama Windy Capital.
Freeware
Made by: Router-Jax
Mirror: n/a
Released: 2008-06-06 using Ren'Py 6.6.2
108. A Comiket Adventure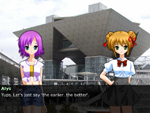 A short kinetic novel meant to shed more light on Comiket, the biggest doujinshi event in Japan.
Freeware
Made by: bakaneko
Mirror: n/a
Released: 2008-06-06 using Ren'Py 6.6.0
107. Snipe Me, Author-Tan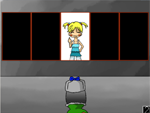 A smorgasborg of various internet memes and in-jokes, but what truly sets this game apart is its liberal use of pygame in its many mini-games.
106. Shinsei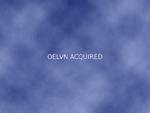 Shinsei is a very short, minimalist, non-branching visual novel created within about four hours. After much deliberation and guided by some insightful opinions I bring you this short, unpolished and very abstract piece.
Freeware
Made by: Radical Dreamers 2002
Mirror: n/a
Released: 2008-05-25 using Ren'Py 6.6.2
105. Little God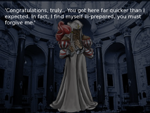 You and the Lieutenant are sent to defeat an evil warlock set to release a new God upon the earth. A new recruit, you wonder what makes you -- and the blood that flows in your veins -- so special.
Freeware
Made by: Septimus
Released: 2008-05-13 using Ren'Py 6.6.0
104. Fest Trip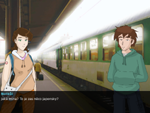 Story of a young boy who wants to visit his first Anime con. Is he able to finish the journey? And will he win the heart of some of the girls?
Freeware
Czech language
Made by: ToTan
Mirror: n/a
Released: 2008-04-28 using Ren'Py 6.6.0
103. Dream Savior Gakuen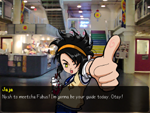 And you thought High School romances got complicated! As the doors open, welcoming you to your first year at an elite Art College, you wonder...will the pieces you create here have the ability to amaze? You never thought the guys you met here would be the amazing ones. Welcome to Dream Savior Gakuen©.
Freeware
Made by: illuminate001
Released: 2008-04-22 using Ren'Py 6.6.0
102. Trepanation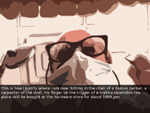 A rash of recent suicides and the only clue are these mysterious death organs. A man with no purpose to his life tries and prevents these people from killing themselves. He teams up with another hostel resident who has her own weird gift, but first he must undergo a strange procedure called trepanation.
Some doctors believe that trepanation can increase your brain power and improve academic and career performance, as well as give heightened consciousness. But unconscious starts to take over, giving a strange kind of clarity of the world beneath what we interpret with our eyes.
This visual novel is a demo to what is aimed to be a full novel.
Freeware
Made by: Ryo Irisawa
Mirror: n/a
Released: 2008-04-11 using Ren'Py 6.6.0
101. Hikikomori Quest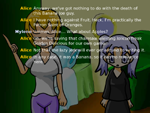 Truth be told, I've lost all sense of the passing of time since that day six months ago. That day when I decided that society could go to hell for all I care. It's better not to leave the house anyway. I'm safe in here. It's not as if anything bad can happen to me whilst I'm locked away in here.
An ambitious game for something created within a few hours, featuring one good and THIRTEEN bad endings and hidden scenarios… can you find them all?
Freeware
Made by: DiGiKerot
Mirror: n/a
Released: 2008-04-06 using Ren'Py 6.6.0