Ren'Py Games 1-25
See ../Ren'Py Games/ for more games created using Ren'Py.
25. Embraced By Green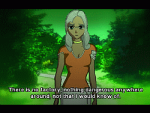 Working as researchers for the Yukiyama City institute, you and your colleague Yumiko are out in the botanical garden one morning. It's nine o'clock and everything is quiet and peaceful.
24. Of Apes and God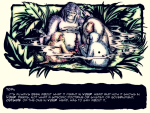 A conversion of a comic to visual novel form, that features apes discussing religion.
23. colorless day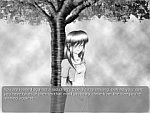 Everything faded into grey. Everyone continues their lives without the ability to change them. And the sun cannot break through clouds with its light...
22. Lakeside Sunset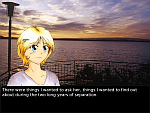 The sun is slowly setting and you are still waiting. Waiting to see whether the promise that you've both given to yourselves will come true...
21. Broken Hearted: A 9/11 Story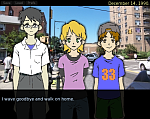 Broken Hearted follows Nat Levy, a 23 year old New Yorker, as he remembers the love of his life, Heather, and tries to cope with her loss on 9/11. It is a story of love, sadness... and hope.
20. Ori, Ochi, Onoe.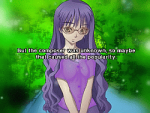 Yoshiyuki left everything behind to start a new life. Moving to the far away Shinrin City, everything is new. All is so calm, and so pure. Several years later however, the situation is very different.
19. Secretary of Death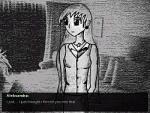 Is there a meaning to everything? Can love last forever and never die? Can happiness be anything more than just temporary? Do our lives even matter at all? Well... of course not.
18. The Princess of Fire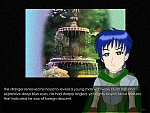 A mystical, haunting melody now wafts through the busy streets of Parcia, signaling the quiet arrival of a mysterious foreigner. Has he come to fulfill a terrible prohecy? Or to escape the chains of fate that bind him...
17. GO! Magical Boy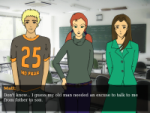 Life would be pretty nice if it wasn't for the fact that you seem to be the wrong person in the wrong place at the wrong time. You just moved, have made no friends yet, are late for dinner, and are about to bump into the scariest situation you could have imagined. On top of that, a strange woman picks you up and burdens you with an impossible task. And boy, now you're really late for dinner. Did I mention the girls? No? Well, there's even more trouble ahead.
16. Quine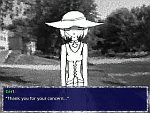 In the year 2006, I joined the ranks of an elusive organization. Our numbers are few, but our objectives are the same: To tell a heartwarming tale of love that cannot be found in this world... To bring interesting, likable characters to life... To help ease the suffering of lonely individuals everywhere... I am Leon Humphrey, and I am a Ren'Ai game maker.
15. Dante's Wrath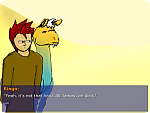 A story of friendship, loss, and a talking Llama!
14. Katherine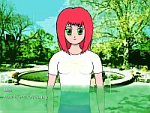 It all began when a new schoolmate joined your class... Now's your chance to show her around town, and make a new friend. Or maybe something more...
13. Kiwi's Valentine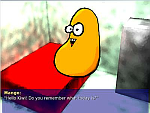 In this short and surreal game, you try to help Kiwi find that special someone.
12. Hikari's Ribbon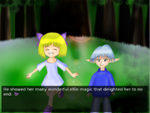 Embark on a journey to regain a dear, lost friend. A short, heartwarming tale of friendship and trust.
11. Dual Hearts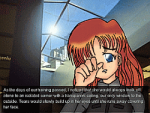 You have lived all of your life inside "The Facility", where you hone your special abilities. Jarel tells you of the vicious cruelty that abounds in the outside world, but Lia longs to go back there. Something's not right. Lia shouldn't be here. Can you save Lia from the facility? From yourself?
10. Wings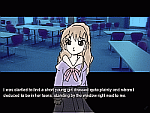 A short non-branching anime-themed visual novel created with the renpy engine. Features include full-color original artwork and atmospheric sound effects and music. The story is mostly emotional and psychological drama told from the point of view of the only two characters.
9. Gakuen Redux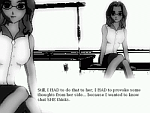 The past, the present and the future. The only love, the only regret and the only second chance. This is really her. This is the final school story.
8. Metropolitan Blues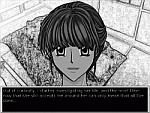 An unseen shadow floats through the streets of Tokyo, expecting nothing from life but loneliness, bitterness, and confusion. Without memories or purpose, all it ever does is watch the residents of the metropolis suffer and die, and nothing beautiful ever crosses its path. But now someone special has appeared in the miserable existence of the nameless shadow. Could it be that a young, carefree female writer carries the key to the end of this Metropolitan Blues?
7. Amatire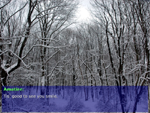 A Ranger out in the woods, you are confronted by a young woman who determinedly asks you to train her...
6. When I Rule the World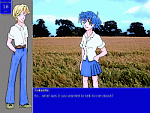 "My name is Selena, and I have been chosen to be the future ruler of the world." She might look like an ordinary schoolgirl, but a secret organization called The Agency are going to overthrow the world and institute her as ruler of the new world order! But what part might a new transfer student play in her future?
5. Reconstruction 01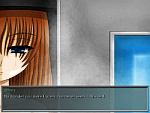 The world is in ruins, humans have destroyed and used all resources on the planet for their own selfish gains. The year is 2309, humans were forced off the planet because it has became far too unlivable. In order to ensure humans', and earth's survival, a plan was set in place. This plan was called Reconstruction. You play as a cocky young man by the name of James. He illegally flies down to the now restricted earth to find anything rare to sell for money, but a trip to an old but odd oil rig proves to be more than the average dive...
4. The Garden Society: Kykuit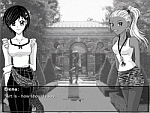 Recent transfer student and new member of the Garden Society, will you be able to fit in? Make friends? ...Or something more?
3. Amgine Park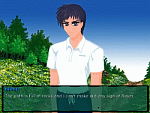 Out for your morning walk at the local park, you meet someone unexpectedly...
2. Sango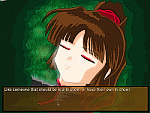 You play as a guy who wakes up to find himself lost in an creeped out forest. With Sango you must figure out how you got there and why.
1. Moonlight Walks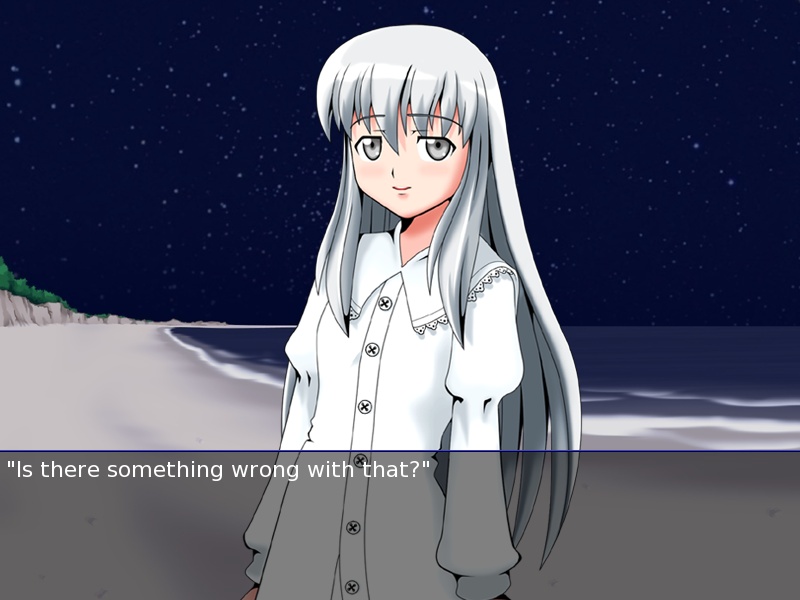 It's the summer before you go away to college, and you're spending it visiting with your aunt and uncle on a small island in the Atlantic ocean. One night, while out taking pictures of the full moon, you meet a girl walking down the beach...